"THE 'SOUL' OF THE BALKANS SINGS AT PETRA"
The events organized by "APIROS" POLYPHONIC CARAVAN diachronically constitute steps for the promotion and dissemination of the polyphonic song itself in a wider audience. On the occasion of publications relevant to those events, the readers of newspapers widely read, have the opportunity to learn about folk polyphony.
As is the case here, in a full-page publication of "VIMA" newspaper - an article signed by Giorgos Skintzas - devoted to the 4th Big Polyphonic Song Concert, on May 2003 at Petra Theatre. It was about the second concert organized by "Apiros" at Petra, as a continuity to the first two concerts at "Pallas" Theatre. It was the fifth year of the great journey of the voices and every new station reflects the dynamic expansion and extension of the Polyphonic Caravan institution.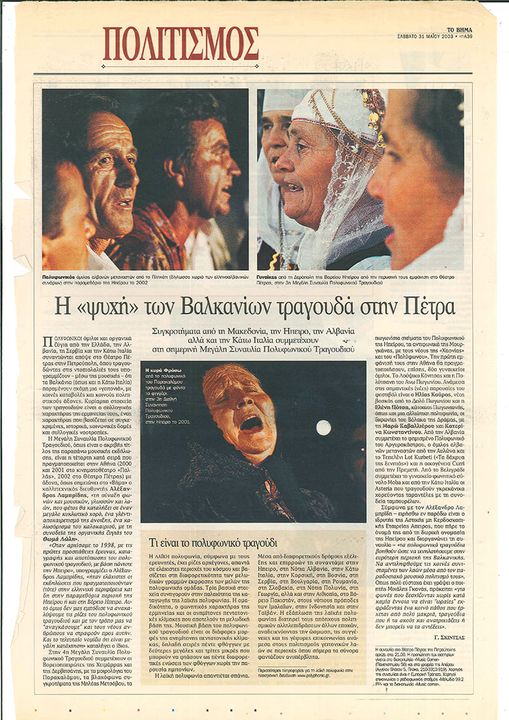 "Apiros" Polyphonic Caravan
Polyphonic Song Archive
"DIGITAL POLIS-PHONY" 2020
From November 2020 until March 2021, almost everyday, an online presentation of materials from the Polyphonic Song Archive takes place.
Videos, sounds, photos, songs, publications, studies - materials of all types will be published, in an attempt to widely share the Archive's materials.