Archive's Working Team
Since 2003 the voluntary, collective work for the formulation of the POLYPHONIC SONG ARCHIVE began. Maria Tsoukala and Michalis Zampas have been pioneer collaborators of the Archive, initially working even without the necessary technical equipment, transcribing hundreds of hours of recordings with transcriptions written in hand. Following the supply of computers, all of the work done, until then, became degitized and the rhythm according to which the Archive was being enriched was decisively improved. The continuous renewal of the equipment for the filed-based recordings and the Polyphonic Song Archive constitute a diachronic priority for "Apiros" and this is how the latter uses the biggest part of the occasional incomes, sponsorships or grants given.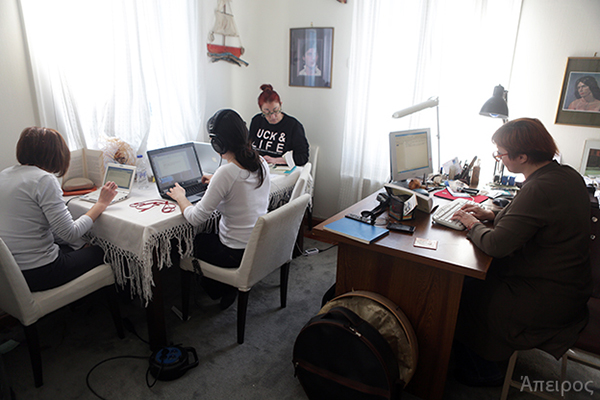 Four of the working team's members during one of the "Saturdays for the Archive"

In 2008 "Apiros" implemented a program by the Ministry of Employment and Social Protection for the Archive's enrichment with the collaboration of Loukas Makos, at its main office, Polydroso village of Thesprotia. During a twelve-month everyday work, a great number of materials was transcribed and degitised and the Polyphonic Song Archive's database was decisively upgraded.
Since 2003 and until today many of the students at the Polyphony Workshops as well as co-travelers with the Polyphonic Caravan throughout the years collaborate with the Archive's voluntary team. In the current composition and with a function on a weekly basis, the following take action, among others: Evaggelia Prifti, Aliki Gkana, Ourania Mpatsinila, Evgenia Kagianni, Lili Pantou, Marina Mpaourda, Pinelopi Tsoutsouva. At the Archive's field work, during the Caravans and the Workshops, Aliki Gkana takes the lead while Kostas Liagkos and Giorgos Toutsis technically support, under the overall supervision of Alexandros Lampridis. Antonis Exarchos contribution to the editing of the Archive's publications is of decisive importance.