Saturday 22 June 2019
20th Big Polyphonic Song Festival - 20 years Polyphonic Caravan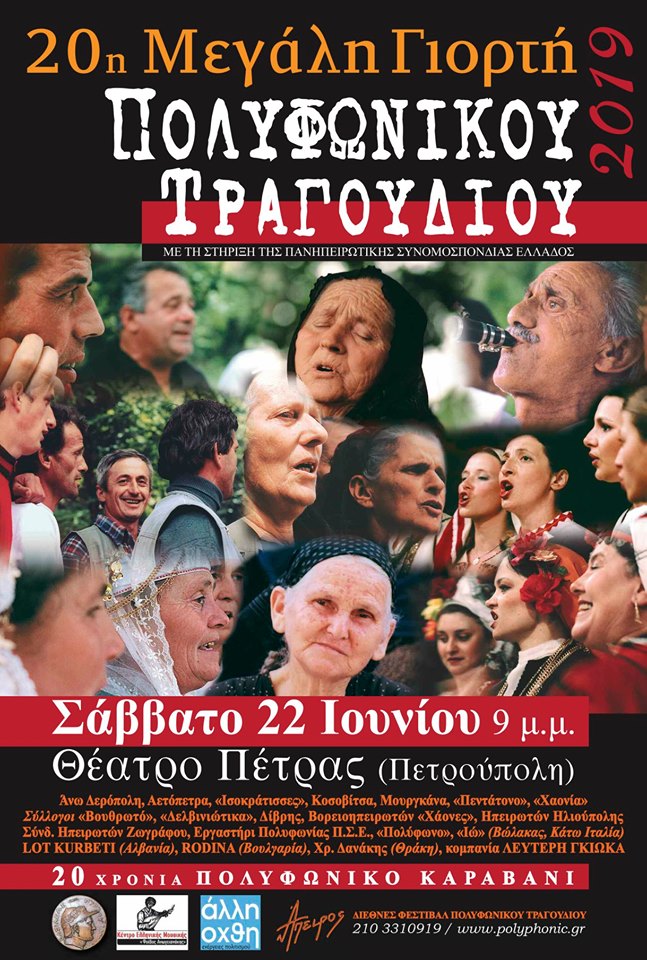 20th Big Polyphonic Song Festival
Saturday 22 June, Petra Theatre, Petroupoli, Athens
The Polyphonic Caravan celebrates its 20 years inviting us at the biggest -throughout the years- polyphony festival!

The biggest polyphonic song meeting not only during 2019 but also throughout all the years in Athens!
Twenty years Polyphonic Caravan! Twentieth Big Polyphonic Song Festival.
The peak an the epitome of a big course. The beginning of an even more beautiful future.
A polyphonic gathering where all those who love the polyphonic song, who struggle for its safeguarding and its transmission, who respect and honor it, have their place in it.
The participant polyphonic ensembles and groups:
«Kirades of Ano Deropoli», Aetopetra, «Delviniotika», «Isokratisses», Kosovitsa, «Pentatono», «Chaonia».
The groups of the Federation of Mourgana, the North Epirotes' Association "Chaones", the Cultural Association "Vouthroto", the Epirotes' Association of Zografou, the Epirotes' Association of Ilioupoli, the Bortherhood of Divri.
The Polyphony Workshop of the Panepirotic Confederation of Greece and "Poliphono" of the Center of Greek Music "Fivos Anogianakis". The ensemble "Io" in polyphonies of Volakas of Drama, Corfu and Greek-speaking South Italy. The polyphonic group of Albanian immigrants LOT KURBETI and the Bulgarian polyphonic ensemble RODINA.
Next to the magic, polyphonic voices, the epirotic music group of Lefteris Gkiokas, defining the beginning and the measure with the epirotic lament and inviting us in big, circular dances at the peak of the festival. With us, also the music group of Christos Danakis of Thrace and the polyphony of bagpipe.
The presale has already began at the price of 8 euros, a price also for students, unemployed,  families, associations (group purchasing) at the Theatre's desk. The general entrance fee will be10 euros, after the presale tickets will be sold out. Free entrance for children until 15 years old. You are all welcome!
On Saturday 22 June we meet at Petra Theatre!
At the most beautiful, the biggest polyphony festival in Athens!