Friday, 31 May 2019
"Chaonia" at music stage "Makari"! Singing for "May and summer"!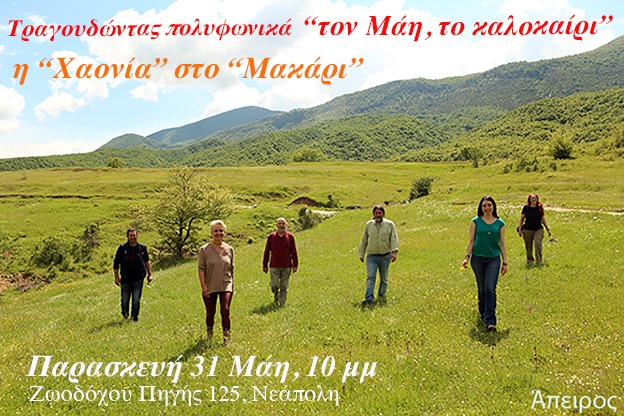 "Only waiting for spring,
May and summer"*
The Polyphonic Group "Chaonia" says goodbye to spring and welcomes the summer with a night full of polyphonies at music stage "Makari". Songs for the most sang month in the polyphonic song, May as well as June -Thertis- and summer. During the last night of May, just in the beginning of the summer. Friday, 31 May!
A program full of polyphonies of May and the summer! From all the regions of the Epirotic Polyphony. And from all the other Greek and Greek-speaking genres of polyphony (Volakas of Drama, Kato Garounas of Corfu, Karpathos and forthe first time Vlach polyphony). And a big part dedicated to South Italy!
With "Chaonia" that makes a last stop at "Makari", returning from appearances in Berlin and before leaving for France in a few days. And with invited friends joining them, a real surprise!
Do not lose this night!
Music Stage "Makari"
125 Zoodochou Pigis str., Neapoli, Athens
Start time: 22h00
*Lyrics from a well known polyphonic song of Epirus!