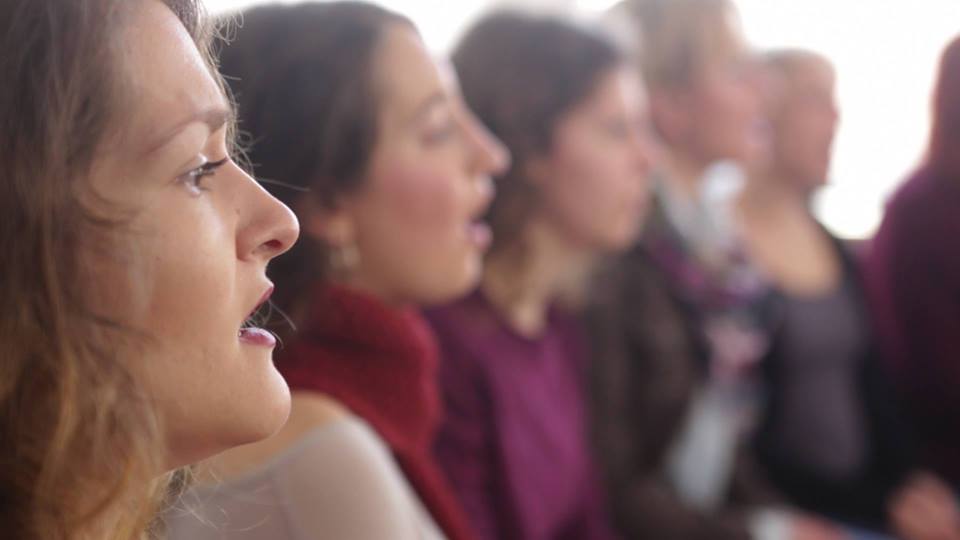 *Am image from the seminars of the Polyphony Workshop at KEMFA
(I know songs as many as the sea
In ten days a wonderful journey starts. The big journey of the voices which constantly restarts! The POLYPHONY WORKSHOP begins for the 22nd year its yearly seminars. A honeycomb of polyphony, an eternal point of departure and return to outstanding journeys to the landscapes of the Epirus polyphony. With the drivers of the POLYPHONIC CARAVAN, Alexandros Lampridis and Aliki Gkana, with members of the polyphonic group "CHAONIA" as co-travelers.
THURSDAY 24 SEPTEMBER, 17h00, the first seminar. Three cycles of three-month seminars until June. Focused on the EPIRUS POLYPHONIC SONG, in the way it is sung differently in every region, in all of its villages. Imparting the continuous apprenticeship and field-based research next to the last experiential bearers, since 23 years now, through the routes of the Polyphonic Caravan. Using the valuable audiovisual and hard-copy materials of the POLYPHONIC SONG ARCHIVE.
Polyphonic songs of love and immigration, history and death, songs that "you either hear and get touched or you cannot bear", as the friend and co-traveler poet Michalis Gkanas has written. Songs that turn your own soul into a song. Songs that "make the words come out as wild horses", as the friend and co-traveler Thanasis Papakonstantinou also says.
With the original, unmediated way of the folk polyphony not only in the interpretation but also in the learning process. A learning based on the experience of 22 years of the Polyphony Workshop at the Museum of Greek Folk Musical Instruents and, now, the Centre of Greek Music "Foivos Anogiannakis" as well as on the workshops that the Polyphonic Caravan has developed in various cities (Vovousa, Volos, Pyrgos, Chalkida, Chios et al) and countries (France, Germany, Italy, Wales).
In a year when the POLYPHONIC CARAVAN constitutes the first ever proposal sent by Greece for inscription on UNESCO's International Register of Good Safeguarding Practices in the field of Intangible Cultural Heritage! And the Polyphony Workshop of KEMFA has its particular contribution to this year-long and fruitful big journey in the field of polyphony!
THURSDAY, 24 SEPTEMBER 2020
A wonderful journey begins.