In March 2016 the Epirus Polyphonic Song was inscribed on the National Inventory for Intangible Cultural Heritage of the Greek Ministry of Culture. Alexandros Lampridis, president of "Apiros" and "kirantzis" (driver – leader) of the Polyphonic Caravan, was the writer of the relevant documentation file. At the aftermath of the registration, the Polyphonic Caravan undertook the initiative to call for a first celebration of the "Polyphonic Song Day", choosing the 14th of May as a suitable date.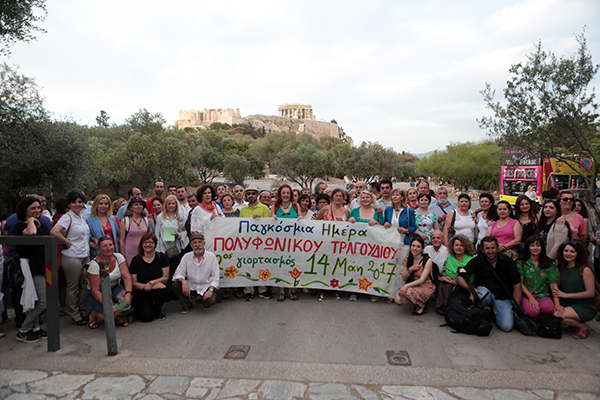 The invitation was addressed to all the groups and associations that are active in the field of the polyphonic song in Athens. Consequently, making good use of the various yearlong collaborations of the Polyphonic Caravan, the invitation was also addressed to polyphonic groups in other cities and countries. The invitation concerned the self-organization of the celebration in each city, the coordination and mutual support of the polyphony cells spread out in various areas, with a view to broadly promote the polyphonic song.
Thanks to the response of a series of polyphonic groups, on the 14th of May 2016, celebrations for polyphony were organized in Athens, Patra, Ioannina, Karditsa, Kalamata and Nicosia (Cyprus). Athens celebration began with people walking and singing at the heart of the city, from Kotzia square to Syntagma, Monastiraki and Thiseio, while the human river was constantly widened and ended up at Pikionis pathway on the Hill of the Muses facing Acropolis, an emblematic place for the value of folk polyphony.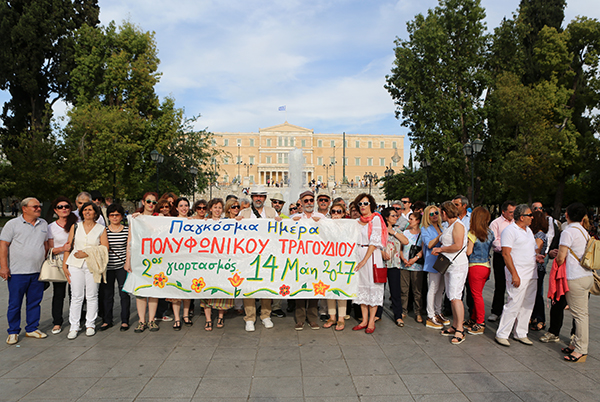 Since 2016 and until today, the celebration is expanded to more and more cities and countries, with more and more massive events at each city every 14th of May. The free and unmediated access, without any fee, is a fundamental element of the celebration. The self-organisation and networking of the celebrations from place to place reinforce the conscience of the polyphonic song community, favoring also other, future collaborations among dispersed groups and cells of polyphony.
The Polyphonic Caravan encourages and supports the expansion of the celebration to every place where polyphonic groups exist, reinforcing the polyphonic song community in Greece and gradually founding the future creation and development of an international polyphony community.