29 July - 11 August 2019
Big Polyphonic Caravan 2019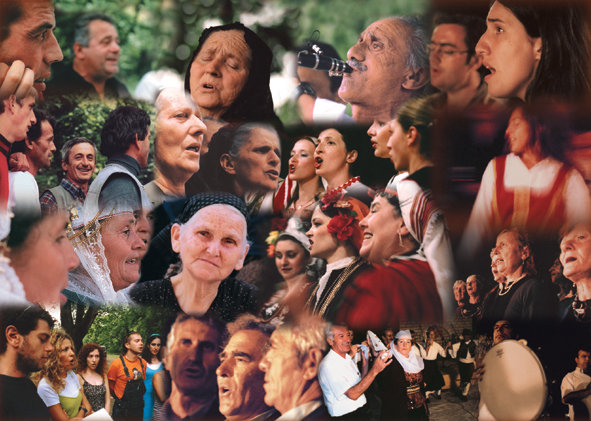 The big journey of the voices, the Polyphonic Caravan, at the beginning of its third decade of journey! The Polyphonic Caravan started its journey in 1999 with the organisation of the 1st International Polyphonic Song Meeting. Since then, it travels one, two or three and four times every year, connecting in its route more and more social and natural landscapes of Folk Polyphony.


20 International Polyphonic Song Meetings every summer, from 1999 to 2018, 20 Big Polyphonic Song Festivals every June, from 2000 to 2019, more than twenty seasonal polyphonic caravans during other seasons of the year, are only some of the stations of the everlasting routes of the Polyphonic Caravan. Its contribution to the safeguarding, research, promotion and transmission of the Polyphonic Song is irreplacable! 

The manifold and fruitful offer of the Polyphonic Caravan is being more and more ackowledged. It is characteristic that since a few months the Polyphonic Caravan constitutes the first ever proposal from Greece for inscription on the international UNESCO Register of Good Safeguarding Practices in Intangible Cultural Heritage - on a particularly demanding Register where, until today, only 20 practices have been inscribed from all over the world.
During every summer, "Apiros" the non profit organisation which created and organises the Polyphonic Caravan, invites us to the Big Polyphonic Caravan. In the same way this year too, it invites us in a journey signifing the beginning of the third decade of the institution, aspiring to define the new searches, the new horizons of its travel. The 2019 Big Polyphonic Caravan will travel for two weeks, from 29 July to 11 August!



MONDAY 29 JULY

Pythio of Elassona, 21h00 - Big concert



TUESDAY 30 JULY

Pythio of Elassona, 10h00 - Collective field recording

Gardiki of Aspropotamos, 14h00 - Polyphonic celebration

Korakou Stonebridge, 19h00 - Big concert




WEDNESDAY 31 JULY

Elliniko, "Theodoros Papagiannis" Museum, 12h00 - Symbolic event

Parakalamos, 17h00 - Collective field recording

Ano Parakalamos, 20h00 - Big concert




THURSDAY 1 AUGUST

Dervitsani (Albania), 12h00 - Symbolic event, Polyphonic celebration

Selleio, 17h00 - Collective field apprenticeship and recording

Kastaniani of Pogoni, 21h00 - Big concert




FRIDAY 2 AUGUST

Droviani (Albania), 11h00 - Collective field recording

Andon Poci, 14h00 - Collective field apprenticeship and recording

Polytsani, 20h00 - Big concert



SATURDAY 3 AUGUST

Kefalovrisso, 11h00 - Collective field apprenticeship and recording

Dolo of Pogoni, 13h00 - Polyphonic celebration, Collective field recording

Ampelonas (Povla) of Thesprotia, 21h00 - Big concert


SUNDAY 4 AUGUST

Limpovo of Filiates, 12h00 - Polyphonic celebration, Collective field recording

Palia Sagiada, 20h00 - Big concert

MONDAY 5 AUGUST

Finiki of Vourkos, 12h00 - Collective field recording

Drimades, Chimarra, 20h00 - Polyphonic celebration, Collective field recording



TUESDAY 6 - SATURDAY 10 AUGUST

BALKAN POLYPHONIC CARAVAN!
A signal to the future, now at the beginnning of its third decade, the Polyphonic Caravn travels in the Balkans. A collective tracking with continuous border crossings in a search for villages with polyphonic song in Serbia,North Macedonia. A journey that shapes its everyday programme during its course. Participating in GUCA Festival in Serbia on Friday 9 August is a given. The stations before and after that will be defined ...on the road.



SUNDAY 11 AUGUST

Margariti of Thesprotia, 21h00 - Big concert