Friday - Sunday, 10 - 12 May 2019
4th Polyphony Workshop and Polyphonic Song Concerts in Berlin!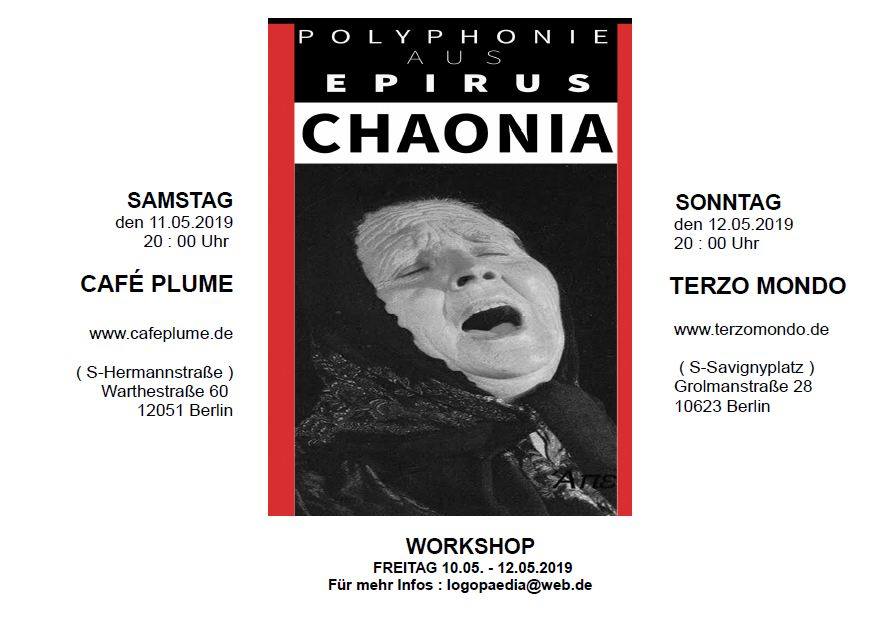 The fourth visit of the members of the Polyphonic Caravan in Berlin is devoted to a three-day (10 - 12/5/2019) Polyphony Workshop, a promising journey in the Polyphonic Song of Epirus and other Greek and Greek-speaking polyphonies, for old and new co-travellers, with teachers: Alexandros Lampridis, founder of the "Polyphonic Caravan" and the polyphonic group "Chaonia", which count twenty years of a manifold offer in the preservation and dissemination of the polyphonic song, and Aliki Gkana! The information for the Workshop is the following and there are only a few places still left:
Hours:    Fr.: 18h00 - 22h00
      Sa:  10h00 -13h00 and 14h00 - 17h00
      Su.: 10h00 -13h00 and 14h00 - 17h00
Place:   Praxis Logopaedia,
             12049 Berlin (Hermannplatz)
Contact:

This email address is being protected from spambots. You need JavaScript enabled to view it.
In parallel, the Polyphonic Group "Chaonia" in concent on Saturday 11/5/2019 at Cafe Plume and Sunday 12/5/2019 at the music stage Terzo Mondo!
More info at the flyer above.